Syahee.com presents first ever Vadodara Literature Festival from 24- 26 th Feb 2017. It will be the finest literature festival of India featuring the literature art in 6 languages by Authors, Performers and literature experts.
The literature event will be exciting for cinema lovers as well due to presence of famous bollywood celebrities like Rishi Kapoor, Sonali Bendre, Manoj Joshi and Writer Director Sanjay Chhel.
Rishi Kapoor would talk about his journey of his own Autobiography "Khullam Khulla" which is published recently.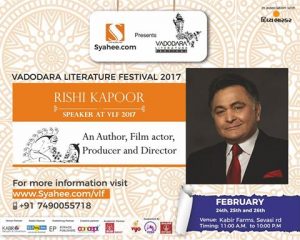 Rishi Kapoor
Very popular face of bollywood Sonali Bendre will talk about Parenting in Digital Era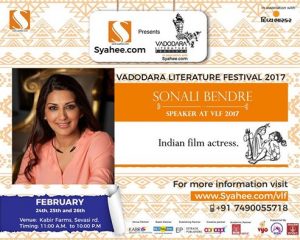 Mythology master Devdutt Pattanaik will surely steal the crowd due to his fame across the world on his subject expertise of world mythology and modern relevance.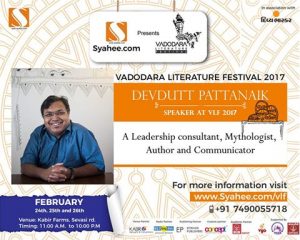 Gujarati celebrity writers like Jay Vasavda and Kajal Oza Vaidya would be attraction for youth, they have been pulling the crowd all across the world among gujarati community.
The schedule for all 3 days has been declared by syahee.com on their website www.syahee.com/vlf
Here is the brief schedule for your information.
The venue is most popular place of Vadodara Gujarat
Kabir Resort & Spa , Gotri – Sevasi Road, Vadodara, Gujarat, India 391101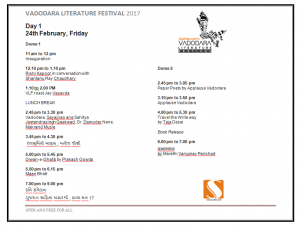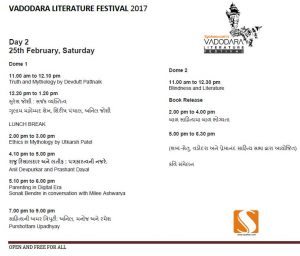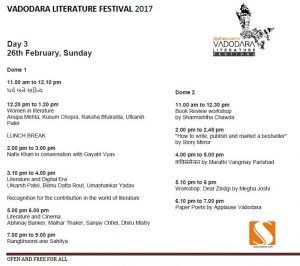 Matrubharti.com is wishing good luck to the hosts Sanket Anil Joshi, Lagni Vyas  and Vadodara Muncipal Corporation for the great  event at Vadodara Literature Festival 2017.